Astor Piazzolla
"The tango no longer exists…It existed many years ago…when Buenos Aires was a place where people wore tango, walked tango, … there was a smell of tango all over the city…The current tango is just a nostalgic and dull imitation of those times…My tango does meet the present."
"I talk to the bandoneón …I play with violence; my bandoneón must sing and scream. I can't conceive of pastel tones in tango." Astor Piazzolla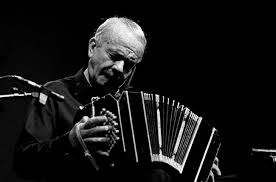 Astor Pantoleón Piazzolla was born on March 11, 1921 in Mar del Plata, Argentina, the only child of Vicente "Nonino" Piazzolla, a barber, and Asunta Mainetti. The family moved to New York City in 1925. He received his first bandoneón, which had cost $19 in a pawnshop, as an eighth birthday gift from his father. Piazzolla remembered, "I got very happy…I thought it was…roller skates…It was a letdown…an artifact I'd never seen before…Dad set it on my legs and told me, 'Astor, this is the instrument of tango. I want you to learn it.' My first reaction was anger. Tango was that music he listened to almost every night…I didn't like it."
Piazzolla studied bandoneón for a year with Andrés d'Áquila and, at the age of ten, made his first (non-commercial) record, Marionette Spagnol. In 1933, he began studies with the pianist, Bela Wilda, and learned to love Bach. Soon after, he met Carlos Gardel, who became a family friend. Piazzolla had a small part as a newspaper boy in Gardel's film, El día que me quieras. If his parents had not refused to let him tour with Gardel, Piazzolla would have been on the flight from Medellín that took Gardel's life.
In 1936, the family returned to Mar del Plata. Piazzolla began to play in tango orchestras, and at seventeen, after hearing Elvino Vardaro's group on the radio, moved to Buenos Aires. In 1939, he began playing with Aníbal Troilo's orchestra after a friend, Victor Baralis, a violinist in the orchestra, told him one of the bandoneón players was ill. Piazzolla remained with Troilo for five years. His first arrangement for the orchestra, the milonga Azabache, won Troilo a Radio del Mundo Award.
From 1941 to 1943, Piazzolla studied with the composer, Alberto Ginastera, and the pianist, Raúl Spivak. Troilo would edit some of Piazzolla's arrangements, complaining they had too much orchestration, saying, "You have to make music for the dancers. They pay admission. If you don't, we're dead." Their relationship was good, but friction with other members of the orchestra led to Piazzolla's resignation in 1944. He said the orchestra was getting too small for him.
In 1946, after two years with the orchestra accompanying the singer, Francisco Fiorentino, Piazzolla formed his first orchestra. Criticism from traditional tangueros continued. In 1949, he dissolved the orchestra, gave up the bandoneón, studied music, and listened to jazz. From 1950 to 1954, he composed a series that defined his unique style (Para lucirse, Tanguango, Prepárense, Contrabajeando, Triunfal, Lo que vendrá).
In 1953, Piazzolla won a scholarship to study in Paris with Nadia Boulanger, considered the best music teacher in the world. At first, he was ashamed to tell her he was a tango musician. He said, "I showed her my kilos of symphonies and sonatas. She came out with one horrible sentence: 'It's very well written'…After a long while, she said, 'Here you are like Stravinsky, like Bartok, like Ravel, but... I can't find Piazzolla in this'…Finally I confessed, and she asked me to play…a tango of my own. She told me, 'You idiot, that's Piazzolla.' She taught me to believe in Astor Piazzolla....I thought I was…a piece of shit because I played tangos in a cabaret…I suddenly got free and told myself, 'Well, you have to keep dealing with this music then." Piazzolla composed and recorded a series of tangos accompanied by a string orchestra. He broke another tradition; he played the bandoneón standing up, one leg on a chair.
In 1955, he returned to Argentina and formed the Octeto Buenos Aires with an electric guitar and no singer. In 1958, he moved to New York, where he wrote Adiós Nonino upon the death of his father. Back in Argentina in 1960, he formed a series of quintets (bandoneón, violin, bass, piano, and electric guitar), playing what became known as New Tango.
During the latter half of his career, the scope of Piazzolla's work was staggering. He composed music for the work of Borges (El tango) and collaborated with the poet Horacio Ferrer (the operetta, Maria de Buenos Aires, the tango, Balada para un loco, and the oratorio, El pueblo joven). In 1972, he played at Buenos Aires' prestigious Teatro Colón for the first time. Even a heart attack in 1973 did not slow him down. He moved to Italy, composed Libertango, and formed the Conjunto Electrónico (bandoneón, electric piano, guitar, bass, drums, violin, organ, and synthesizer).
When Aníbal Troilo died in 1975, Piazzolla composed and recorded the four-part Suite Troileana. Troilo's wife gave him Troilo's bandoneón. From 1978 to 1990, he gave concerts all over the world, including one in 1987 for a huge audience in New York's Central Park. Even after a quadruple bypass in 1988, he found energy to form the New Tango Sextet and began a tour of Argentina and Europe. In Paris, on August 4, 1990, he suffered a stroke. He died in Buenos Aires on July 4, 1992.
Astor Piazzolla revolutionized and revitalized the tango. He composed more than 1000 works and has influenced some of the best musicians in the world (Yo Yo Ma, Gordon Kremer, Al di Meola, and The Kronos Quartet). He has been the target of both scorn and praise. Like the tango, he is passionate and complex. As he said, "My tango does meet the present."
©2020 Linda Walsh
You can watch Piazzolla play Libertango here.
________________________________________________________________________________________________________________
E

dgardo Donato
The violinist, orchestra director, and composer, Edgardo Donato, created a classic rhythmic style of tango with syncopation that had a great influence on Juan D'Arienzo, but unlike D'Arienzo's insistent staccato beat, Donato's sound can be playful and lighthearted. His versions of the valses Con tus besos or La tapera are irresistible, and it's almost impossible to sit still when you hear Donato's orchestra play the milonga Ella es así. Many of his more than 200 compositions such as the tangos A media luz, Julián, El huracán, and Pensalo bien are classics.
Donato was famous for his absentmindedness. There are many anecdotes about how he "lived on the moon". According to his daughter, Donato once met a friend on a streetcar and they began to chat. After they got off the streetcar and walked for a while, Donato realized he had forgotten his wife on the streetcar. Once, listening to the singer, Adolfo Rivas, in a recording studio, Donato said he would like to have Rivas in his orchestra, forgetting that Rivas was already in the group.
Edgardo Felipe Valerio Donato was born on April 14, 1897 at 1657 Avenida Belgrano in the San Cristóbal neighbourhood of Buenos Aires. He was one of nine children of Italian parents, Ernesto Donato and Egilda Cafagna. In 1899, the family moved to Montevideo, Uruguay. Donato's first musical influence was his father, who played the mandolin and violoncello and later conducted a chamber orchestra in Montevideo. As a boy, Edgardo studied music at the Franz Liszt conservatory, and, at the age of twenty-one, began to give classical music concerts. However, in 1918, he changed his musical direction and became a violinist in the Orquesta Típica of the bandoneonist, Jose Quevedo, which also included the great pianist and composer, Enrique Delfino. In 1919, he joined Carlos Warren's jazz band, and, three years later, the orchestra of the pianist Luis Casanova, whose violinist, Roberto Zerillo, became a friend of Donato's.
In 1922, Donato composed the tango Julián, dedicated to the Uruguayan drummer Julián González. He tried to sell this tango for twenty pesos but was unsuccessful, so he published it himself. Two years later, after it was performed in the show Quien dijo miedo at the Teatro Maipo in Buenos Aires by the actress Iris Marga, and recorded by the popular singer Rosita Quiroga, it became a hit.
In 1923, Donato's tangos, Corazoncito de oro, Beba, and Muchacho, with lyrics by the great lunfardo poet Celedonio Flores (who wrote many tangos exclusively for Rosita Quiroga), were released. Soon after this, Donato composed what would become the most recorded tango in history, A media luz, which he had composed on a streetcar. It was premiered in Montevideo by the Chilean singer Lucy Clery in a musical revue, Su majestad la revista, and was soon recorded by Carlos Gardel as well as the orchestras of Roberto Firpo and Francisco Canaro.
In 1925, Donato moved to Buenos Aires, where he worked briefly in the orchestras of Adolfo Carabelli and Julio de Caro and formed his Orquesta Típica y Jazz Band Donato.
IN 1927, he formed his first tango group, Orquesta Donato-Zerillo, with his brothers Osvaldo (piano) and Ascanio (cello), three bandoneón players (Héctor María Artola, Juan Turturiello, Héctor Gentile), three violinists (Donato, Roberto Zerillo, Armando Julio Piovani), and a double bass player (A. Bancalà). They made their debut on July 14, 1927 at the Café Avenida in Montevideo, and, until 1930, played under the name Orquesta Típica Criolla Donato-Zerillo at the Select Lavalle theatre in Buenos Aires, where they were introduced as "the nine tango aces, the most striking native tango orchestra ever heard". They toured briefly with the well-known female singer Azucena Maizani, with whom Zerillo became romantically involved. He left the group in 1931 to tour Spain with her. Donato reorganized the orchestra and renamed it Edgardo Donato y sus Muchachos. This new orchestra hand a different sound, characterized by emphasis on the bandoneón and violin solos with pizzicato (plucking the strings of the violin). With the singer Luís Díaz, the orchestra began recording for the Brunswick label, with which Donato would make over 130 recordings. They played at cinemas and theatres and on radio (La Voz del Aire).
On December 9, 1932, Donato switched to the Victor label, and recorded his tango, El huracán, composed with his brother Osvaldo, with the vocalist Felix Gutiérrez. Apart from a brief period with the Pampa label, Donato stayed with Victor until the end of his career in 1942, releasing over 400 recordings.
Donato's other singers included Antonio Rodríguez Lesende, Carlos Vivan, Teófilo Ibáñez, Agustín Magaldi, Antonio Maida, Hugo de Carril, Juan Alessio, Romeo Gavio, and Horacio Lagos. Two of my personal favourites, the tango A oscuras and the delightful milonga Ella es así, are sung by Lagos.
In 1933, the orchestra appeared in Argentina's first talking motion picture, Tango, which starred many famous names of tango. In one of the scenes from this classic film, Donato's orchestra plays a milonga for a tango exhibition by the legendary dancer El Cachafaz. The same year the orchestra also appeared in Los tres berretines. Donato composed music for the films Riachuelo (1934) and Picaflor (1935), and worked as a choreographer in Así es el tango (1937). He also appeared in Pelota de trapo (1948).
In 1944, Donato also put together a quartet, Los Caballeros del Recuerdo, with himself and Domingo Donnaruma on violins, Francisco Pracánico on piano, and Anselmo Aieta on bandoneón.
In 1945, Donato's brother Osvaldo left to form his own orchestra, taking with him many of the musicians in Donato's orchestra. Donato formed a new orchestra, which included the bandoneón players Ernesto "Titi" Rossi and Julián Plaza, the violinist Rolando Curzel, and the pianist Bernardo Blas.
Edgardo Donato died following a heart attack in Buenos Aires on February 15, 1963 at 65 years of age.
Linda Walsh ©2020
Listen to the 1941 recording of Donato's orchestra playing his composition A media luz.